Mercedes Apple CarPlay - Aftermarket Upgrade Device for Your Vehicle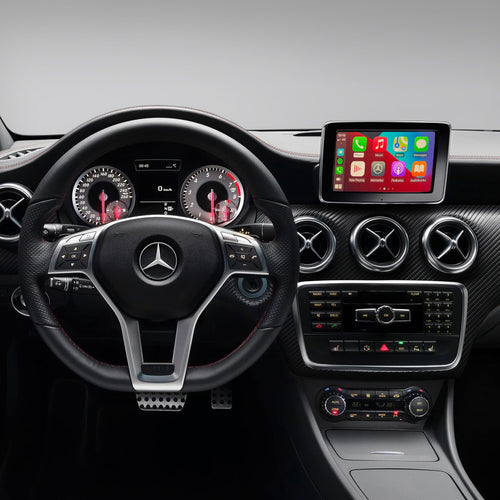 European cars always had a different flair to them in the USA. Or, at least that's how some of us had imagined them. Maybe, seeing so few of them ever, played its part into forming that perception. Moreover, the fact that they always seemed different compared to products manufactured by the homeland automotive industry added to that narrative. Consequently, by becoming an european car owner, all of a sudden your arrivals became noticeable everywhere, and some would even ask about the driving experience. These cars were never cheap compared to similar models of Ford or Chevy and owning a Mercedes or BMW would also hint that you were doing well.

While BMW was more for petrolheads and manual driving enthusiasts, you might have seen yourself or observed on the TV, a well renowned businessman getting out of a Mercedes. Hence, it was easy to associate the "Merc" with luxury & success. Mercedes vehicles, more or less, were always worth their value as the brand offered smooth driving experience & reliable engine paired with beautiful interiors and high safety standards. Indeed, Mercedes might have always been a bit pricey, but never expensive, as the value it carried was always appreciated by the owners.

Latest developments in modern technologies, especially in Silicon Valley and over pacific in Asia, could have shaken the Mercedes paradigm of getting "all you need and want in one vehicle". While the German manufacturers were always notorious with their engine improvements and continuous drive for perfect steering and aerodynamics, they have come late to the party of the technological advancements in the interior of the car.

Mercede took 2 years to fully equip all its models with Apple Carplay & Android Auto, since Tesla introduced its huge touchscreen infotainment center in 2014. It would not be an overstatement to say that these touchscreens were not the greatest strength of the first generation of such Mercedes vehicles at all. Fortunately, they have sorted it out lately, and the current model "Mercs" still spark joy and can bring back images of old days, when they were considered so distant and cool.


Nevertheless, there hangs the question about vehicles made during 2014-2017 and even before that.  What is considered standard in modern American vehicles - touchscreen infotainment center with Apple CarPlay, is missing from almost all Mercedes vehicles with 5+ years of age. I would guess, if you own a "Merc" you never bought it to be looked down on by someone driving a Ford or Chevy. So, what are the infotainment center upgrade options for older Mercedes owners?

To answer that question, we need to know what type of "New Telematics Generation of Cockpit Management and Data System" (NTG) your Mercedes runs on. Simply put, knowing which generation NTG system your vehicle has, will help you choose and integrate the right aftermarket CarPlay upgrade device seamlessly. There is not much to worry, just remember, Mercedes started using the NTG 4.0 system in 2008 and discontinued it in 2011 replacing it with NTG 4.5. Furthermore, NTG 4.5 was being used for the next 4 years until 2015. Since 2015, Mercedes has switched to the NTG 5.0 system. Nevertheless, if you are not sure which system your Mercedes runs on, you can always approach our experts for free consultation by phone or via the Expert Consultation Form.

Once you have figured out the system type your vehicle runs on, you are set to choose the aftermarket Apple CarPlay upgrade device. Be thoughtful of installation while choosing the CarPlay upgrade device. Moreover, it's alway good to plan ahead and know if you are going to be installing the device yourself or asking for mechanics assistance. You can always clarify installation guidelines with the seller. As not all the upgrade devices are made the same, it's also worth to confirm, if the upgrade device will retain vehicle's default, manufacturer provided functionality.

If you happen to be the Mercedes owner, looking for an aftermarket CarPlay upgrade device for your vehicle, puzzled with these and many more questions, you do not have to go any further. Mozart Electronics offers multiple aftermarket devices for Mercedes Apple Carplay, for the vehicles manufactured between 2008-2018. We support almost all models running on NTG 4.0, 4.5 or 5.0 systems. Our solution just comes in a small box, and does not alter the interior of your Mercedes as it attaches to the touchscreen from behind. Furthermore, not only does it  retain all the factory functionality, but also enhances  your vehicle's infotainment center. The aftermarket Mercedes Apple CarPlay upgrade device offers you new features like wireless maps & navigation as well as wireless playlist & music integration. To continue with, this device also supports both Apple & Android systems and apps be it from App Store or Icloud. On top of that, phone-swapping is possible, some offline features might be available as well, depending on the smartphone and vehicle model. 
You are welcome to consult with our experts via contact form or clarify product features on the product specific page on: Apple CarPlay for Mercedes NTG 4.0 System; Mercedes NTG 4.5 Aftermarket Apple CarPlay and Aftermarket CarPlay Upgrade for Mercedes NTG 5.0.