Bentley CarPlay - Aftermarket Upgrade Solution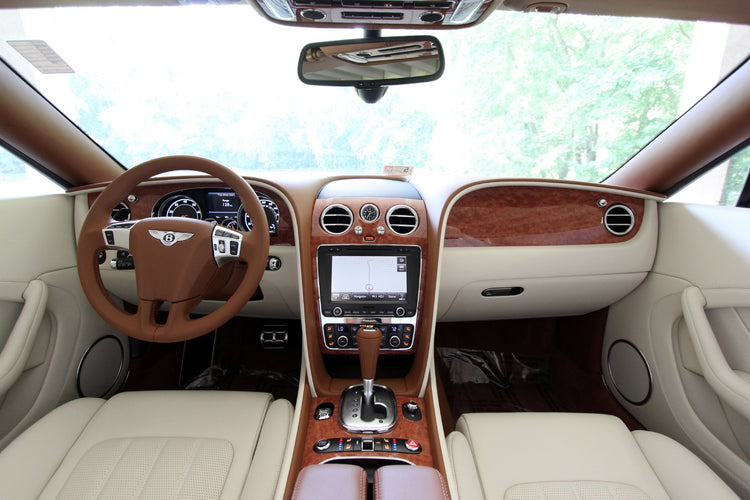 There are luxury cars, and then there are those that define luxury. Bentley can proudly put itself in the second category. For the last 100 years, it has become a definition of luxury in the car industry. Some might even argue, that Bentley gets even better with the age. Still, parts of these vehicles need replacement or upgrading. With the technological development revolutionizing vehicles industry, the Bentley infotainment system has become one such thing.

As quality of aftermarket devices vary greatly, upgrading a vehicle becomes challenging endeavor. Even more so if you own a Bentley, as compromising on design or material quality is not an option. Agreeing with this argument, some Bentley drivers regard outdated infotainment and navigation system as a small nuance not worth the trouble of replacing. To tackle the problem, we have created the solution that solves the infotainment upgrade problem for Bentley model vehicles without compromises. This article discusses Bentley Continental GT upgrade solution with Apple CarPlay and Android Auto enhancement for the infotainment center. 
What are Apple CarPlay and Android Auto?
Apple CarPlay and Android Auto are in-car infotainment systems. They allow drivers to access smartphone features and apps through the vehicle's dashboard display. CarPlay is designed specifically for iPhones, while Android Auto is an app for Android devices. Both systems offer a range of features, including hands-free calling, messaging, music playback, and navigation. Aftermarket Apple CarPlay upgrade devices can improve a vehicle's infotainment center by providing access to all of these features and more. The device connects to the existing infotainment system. It allows the driver to control their smartphone apps through the car's touchscreen or voice commands, improving convenience and safety while driving. 
Bentley Apple Carplay & Android Auto
In some of its models, Bentley began delivering CarPlay as a standard feature in 2019. While Android Auto is still an optional choice. Nevertheless, none are standard on older vehicles, like the Continental GT or Flying Spur made between 2012-2018.
Which models of Bentley can be equipped with an aftermarket CarPlay Upgrade? 
Bentley Apple CarPlay upgrade system can be equipped on the Bentley Continental GT, Bentley Continental GTC, Bentley Continental GT Speed, and Bentley Flying Spur models manufactured From 2012 to 2018. This upgrade supports both iPhone and Android smartphones, allowing users to seamlessly integrate their devices with their Bentley's infotainment system. 
How Do I Connect My Bentley to CarPlay?
To connect your Bentley Continental GT or Flying Spur, please follow the steps listed below:  
Use a Lightning cable to connect your iPhone to the car's USB port, or proceed for the wireless integration.
The infotainment system in the car should instantly enter CarPlay mode.
To access CarPlay functions, use the vehicle's controls or Siri. 
For the upgrade device installation guidelines, please contact our CarPlay Expert Consultation. 
Benefits of upgrading Bentley Continental GT or Flying Spur with Apple CarPlay?
After Connecting to the infotainment system of your Continental GT or Flying Spur, device provides access to all of the features offered by CarPlay, including Siri voice control, navigation, and a range of entertainment and communication apps. This upgrade also makes it possible to use your phone's capabilities in a hands free mode while driving. By enabling you to concentrate on the road ahead, it improvs the utility and safety of your vehicle. Additionally, by upgrading to CarPlay, users can enjoy a sleek and intuitive interface, advanced navigation features, and seamless integration with iPhone functionalities. Also, with the upgrade your vehicle retains all the manufactory default features. Overall, upgrading to CarPlay provides a more convenient and safer driving experience for drivers who want to stay connected while on the road.