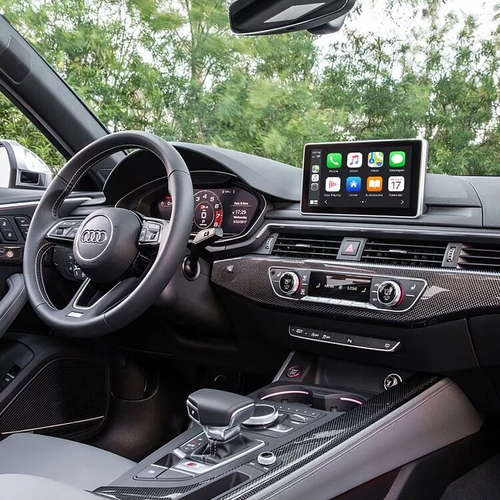 Audi started offering vehicles equipped with Apple CarPlay to the US market from 2016. It was a long awaited upgrade from the German manufacturer as Apple Carplay was first released in 2014. Nowadays, by default, all Audi vehicles are equipped with both Apple Carplay and Android Auto. However, there are older Audi models without Apple Carplay still serving their owners perfectly fine. If you happen to be one of the such owners, looking for aftermarket solutions to upgrade your car, you have come to the right place for the advice. 
First of all, as you might know, Audi vehicles have one of the four different OEM systems: Audi Concert; Audi Symphony; Audi Chorus and Audi Multimedia system. You need to confirm the system type of your vehicle to get a compatible Audi Apple Carplay upgrade device. 
If your Audi has a radio control knob between LCD screen and climate control panel, and if it says Concert or Symphony Radio on top of the radio, then you have Concert or Symphony radio. It is used in 2008-2016 Audi A4,S4,A5,S5,Q5,SQ5,RSQ5 and has a 6.5-inch color display, also some 2007-2019 models might be equipped with the same system. If you happen to be looking for Audi Concert CarPlay or Audi Symphony Carplay, worry not, just click on the highlighted link to the perfect aftermarket upgrade device for you vehicle, where you can view product details and shipping information. 
However, if a system name is not written directly on top of the radio, Concert & Symphony are ruled out and you would need to go to the Multi Media Interface (MMI) menu to check the version number. For the "Multimedia 3G" systems, version numbers start with "BNav" and "HNav". For the lucky owners of all models of Audi A1 to Audi A8, as well as Audi TT, Audi Q3 to Q7, and Audi R8, manufactured between 2009-2019, we have a great news: You can follow Audi Apple Carplay Multimedia 3G highlighted link to find aftermarket upgrade device for your vehicle.





Still, if you are not sure about your Audi's head unit system, you are always welcome to contact CarPlay Expert via this form to get qualified advice or check out all our aftermarket solutions for Audi Apple Carplay.