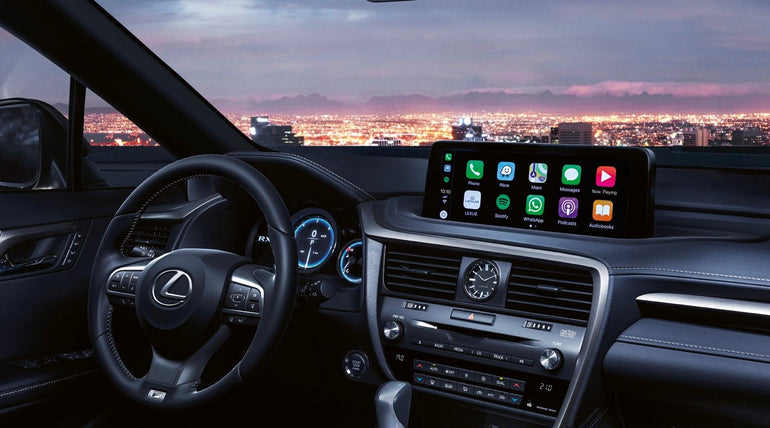 Lexus has long established itself on the US market by offering Japanese reliability and precision combined with comfort and luxury in their vehicles. Indeed Lexuses build quality helps even their older vehicles perform well despite the older age. Still, as technological advancements re-define comfort standards year-by-year, older Lexus vehicles might be lagging in this department. You might need to go through some upgrades to catch-up with modern comfort & luxury standards for your older Lexus vehicle.
One such thing to upgrade for the older Lexus vehicles is the head unit & vertical screen. While vertical touchscreens appeared much earlier, Lexus started supporting Apple Carplay in its vehicles only in 2018 and that upgrade was only for LC; LS; RC; RCF & NX lines. Lexus UX & Lexus US models only got Apple CarPlay support from 2019, while Lexus RX received the upgraded infotainment center only in 2020. All Lexus models including hybrid vehicles have Apple Carplay as default since 2021. On average, in the USA Lexus has enjoyed about 300,000 vehicle sales per year since 2015. We estimate around 1,350,000 Lexus vehicles between 3 and 8 years of age to still be cruising US streets without the comfort of wireless: smartphone; navigation & music playlist integration, for their owners. If you happen to be one of them - looking for aftermarket solutions to upgrade your car you have come to the right place for the advice.
First of all, as you might know, head units and vertical screens on different models of the Lexus vehicles might differ in size and operating system. However, for our aftermarket Apple Carplay upgrade device for Lexus vehicles, these differences cause no challenge as it fits all the vehicles made after 2014. Furthermore, our solution for Lexus Apple Carplay supports Lexus GS models made since 2012 and Lexus LS models made since 2013* (except for models with a 12.3 screen). Lexus RX is the only vehicle model line that is supported for the cars made since 2016.
The upgrade device is just a small boxed solution that does not alter the interior of your car as it attaches to the touchscreen from behind. Moreover, apart from keeping all the factory functionality of your infotainment center, the aftermarket Lexus Apple CarPlay upgrade device offers you new features like wireless maps & navigation as well as wireless playlist & music integration. Moreover, this device supports both Apple & Android systems and apps be it from App Store or Icloud. Also, phone swapping is possible and some offline features might be available depending on the smartphone and vehicle model.
There is only so much we can cover in a blogpost, that's why we always recommend to consult with professionals & check vehicle and device compatibility, as well as clarify the upgrade features and get some installation guidelines. Experts at Mozart Electronics would always be happy to answer your questions & inquiries via the contact form or over the phone. If you'd like to check our product specifications for Lexus Apple CarPlay, just click on the highlighted link above. There you will find detailed information about CarPlay upgrade device for Lexus: CT; ES; GS; IS; LC; LS; LX; NX; RC; RX & UX model vehicles.