Maserati Vertical Screen Apple CarPlay Upgrade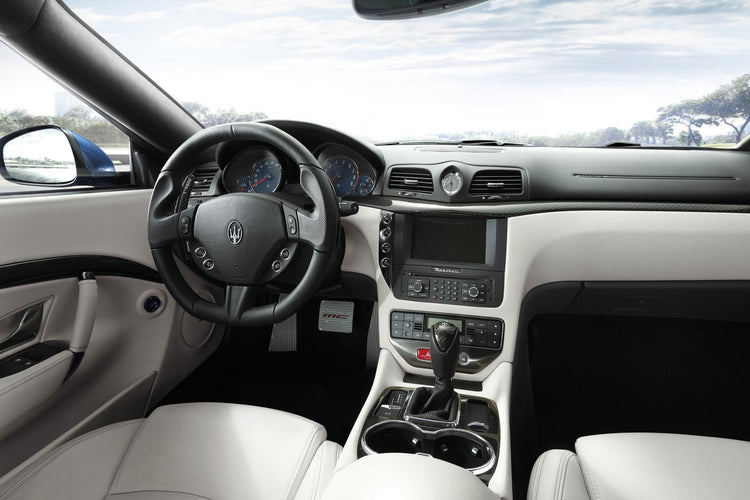 Maserati owners can now upgrade their car's entertainment system with the latest Maserati Vertical Screen and Apple CarPlay technology. The aftermarket Maserati vertical screen is an innovative product that replaces the factory head unit with a larger, higher resolution touch screen display. The screen not only adds a modern touch to the car's interior, but also provides a variety of entertainment and connectivity features.
Aftermarket Vertical Screen Replacement: Breakdown by Maserati Model Vehicles
Maserati GT Vertical Screen Replacement
One of the most Popular Maserati vehicles is the Granturismo. If you are a lucky owner of the one, we have a great news for you. With our Granturismo navigation screen upgrade you can enjoy Tesla Like vertical screen in your vehicle. This product replaces the factory navigation screen with a high-definition, capacitive touchscreen display that supports wireless Apple CarPlay and wired Android Auto. This upgrade allows drivers to easily access their favorite music, maps, messages, and more from their smartphone directly on the Maserati Vertical Screen. Additionally, it supports a multitude of entertainment options, including Pandora, Spotify, satellite radio, and Sirius XM.
Maserati Ghibli Aftermarket Vertical Screen
We also got a Maserati CarPlay Vertical Screen upgrade solution for the onwers of sportier Maserati Ghibli. This product is designed specifically for the Maserati Ghibli and replaces the factory radio and screen with a larger, higher resolution touch screen display. The Maserati Vertical Screen not only adds a sleek, modern look to the car's interior, but also enhances the driving experience by allowing for smartphone integration with Apple CarPlay. This upgrade provides access to navigation, music streaming, messaging, and more, all from the Maserati Vertical Screen.
Maserati Quattroporte Vertical Screen Upgrade
For Maserati Quattroporte owners, we have 2 solution depending on your vehicles release year. The dedicated devices for Maserati Quattroporte 12.1 Screen upgrade fits all models manufactured between 2004 and 2007. While Maserati Quattroporte navigation screen upgrade  product fits vehicle manufactured between 2008 and 2013. You can rest assured that both devices are fully compatible with Apple Carplay and Android Auto. Moreover, like other upgrade devices we have discussed in this article, they also retain all the factory default functionality after installation. 
In conclusion, Maserati Vertical Screen products combined with Apple CarPlay technology offer a seamless integration of modern entertainment and connectivity features to enhance the driving experience of Maserati owners. If you questions regarding our Maserati vertical screen products compatibility with your vehicle or need installation guidelines you are welcome to consult with our our Apple Carplay Expert for free.