Land Cruiser Apple CarPlay & Screen Upgrade Options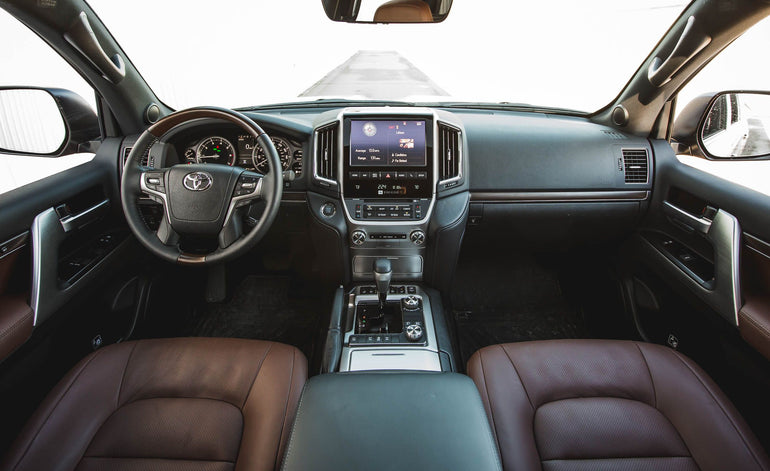 Apple CarPlay and Android Auto in Toyota Vehicles
Toyota is considered a well balanced all around car. It might not be the best in any category, however when we look to it as  a whole package it does not disappoint. Altogether, with its reliability, comfort, smooth driving experience, easy maintenance, safety, or fuel economy Toyota vehicles are known to combine all in one and offer a well balanced performance. Still, surprisingly, one aspect Toyota has been lagging behind on is making its vehicles compatible with modern apps. For example, the 2019 Toyota Avalon became the first Toyota model with Apple CarPlay. It is true that Android Auto was in default set of the Toyota vehicles since 2015, but for US market it was not that relevant, as apple products dominate on this side of the ocean. 
Toyota Land Cruiser Apple CarPlay

Land Cruiser was is no different to other Toyota vehicles in that regards. While Android Auto is a standard for Land Cruiser since 2015, Apple CarPlay was adopted in them only in 2019. Unfortunately, the owners of older models are missing on the benefits of Apple CarPlay. Be it wireless integration of the apps, music or navigation from your smartphone to the vehicle's infotainment center. We offer an aftermarket Toyota Land Cruiser Apple CarPlay Upgrade solution to hep you resolve the inconvenience. 

The Land Cruiser Apple CarPlay upgrade comes as a boxed solution. You will retain vehicles factory features after connecting it to your infotainment center. On top of that, the Land Cruiser CarPlay solution enables you to connect to your phone via Bluetooth. Screen mirroring is another benefit of the installation. The device supports MP3, WMA, AAC or any other music file. Moreover with RCA audio output it increases audio quality with any aftermarket amplifier. The land Cruiser CarPlay upgrade solution also supports HD video output for headrest monitors. It goes without saying that Google and Apple Maps are supported as well. If need be, you are always welcome to get installation guidelines or over the phone assistance from our experts. 
Toyota Land Cruiser Screen Upgrade
While aftermarket apple CarPlay upgrade is a great solution it might not be compatible with your vehicle. For such cases, we offer Land Cruiser Screen Upgrade. In essence it is a Land Cruiser replacement screen that modernizes the look of your infotainment center. The tesla like touchscreen comes with pre-configured capabilities for Apple CarPlay or Android Auto. Like aftermarket Apple Carplay device for Land Cruiser, the replacement screen also retains all factory default features, be it climate control, air suspension, sports mode or any other. You can check the vehicle compatibility and full description of the product on the following link Land Cruiser 200 Vertical Screen. 

Regardless of what you are looking for, be it just a CarPlay upgrade for your Land Cruiser or full replacement of your screen, we got you covered. If you'd like to see our other solutions for Apple CarPlay upgrade please follow the link to our main page.